The computer industry is rapidly changing and encompasses a wide range of products and services. Operating a computer services business is not easy, but building an effective web site can make a huge difference in responsiveness and customer satisfaction.

I hope you'll find the information you need on this site to make an informed buying decision. I look forward to working with you in the near future.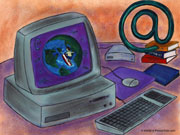 Cowley Computer Repair.
P.O. Box 71.
Browns Plains,QLD,4118.
Phone:(07)3809 2653
Mobile:0408 015554
Fax:(07)3809 2056



This website was last updated on 22/05/01.